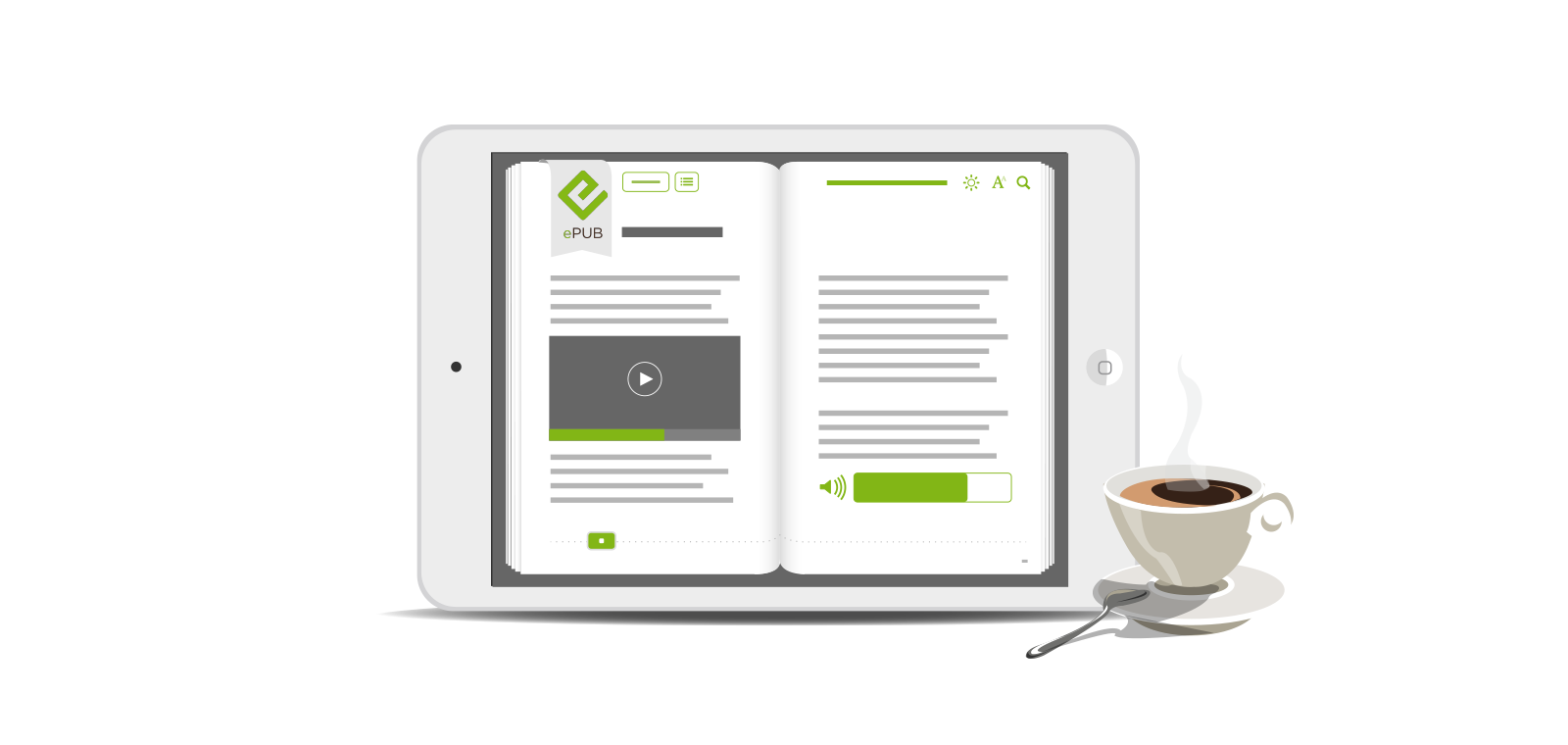 EPUB, which stands for electronic publication, is a open file format. By publication, we usually mean digital books (ebooks), but it can more generically mean anything you've already seen represented as a PDF file. We'll often use the term ebook from now, but don't forget that the scope is getting wider. By open, we mean that the specification is in free access from the IDPF website, and that developers can freely create an application for generating or reading EPUB files (.epub). And this is true for the next century, which means EPUB is a good archive format.
EPUB is based on Web Standards: it defines a means of representing, packaging and encoding structured and semantically enhanced Web content — including HTML, CSS, SVG, images, and other resources — for distribution in a single-file format.
In practice, an EPUB file is a zip archive which contains XML structures, HTML and CSS resources, images and – with EPUB 3 – javascript code, audio and video assets.
Using open Web Standards in EPUB brings many advantages to the publishing industry:
By essence, Web Standards are interoperable, meaning they aim at being usable on any kind of device; so is the EPUB standard.
Developers of the EPUB specification benefit from the work of the entire Web community. As an example, ebooks accessibility is leveraged by the work done by the W3C on the subject [WAI].
Developers of EPUB authoring solutions can create such tools as variants of Web authoring solutions.
Developers of reading applications can use as core for their rendering engine an off-the-shelves Web browser engine.
In short, using Web Standards, the publishing industry avoids reinventing the wheel … note that it must still adapt this "wheel" to the chapters and pages of ebooks, i.e. the electronic version of a codex.
EPUB is today the reference format for distribution and interchange in the digital publishing industry, as it allows publishers to produce and send a single digital publication file through distribution and offers consumers interoperability between software/hardware for reflowable or fixed-layout ebooks.
You'll find more information on EPUB on the EPUBZone website EPUB 3 overview.

Readium
The Readium projects provide rock-solid, performant building blocks and applications for processing EPUB3 publications. EDRLab is participating to the Readium codebase maintenance and evolution.

Accessibility
Support for people wih print disabilities is a key part of our mission. We collaborate with European publishers and major inclusing organizations on the creation of a born-accessible ebook market. We also make sure that Readium projects take into account the assistive technologies used by visually-impaired users.