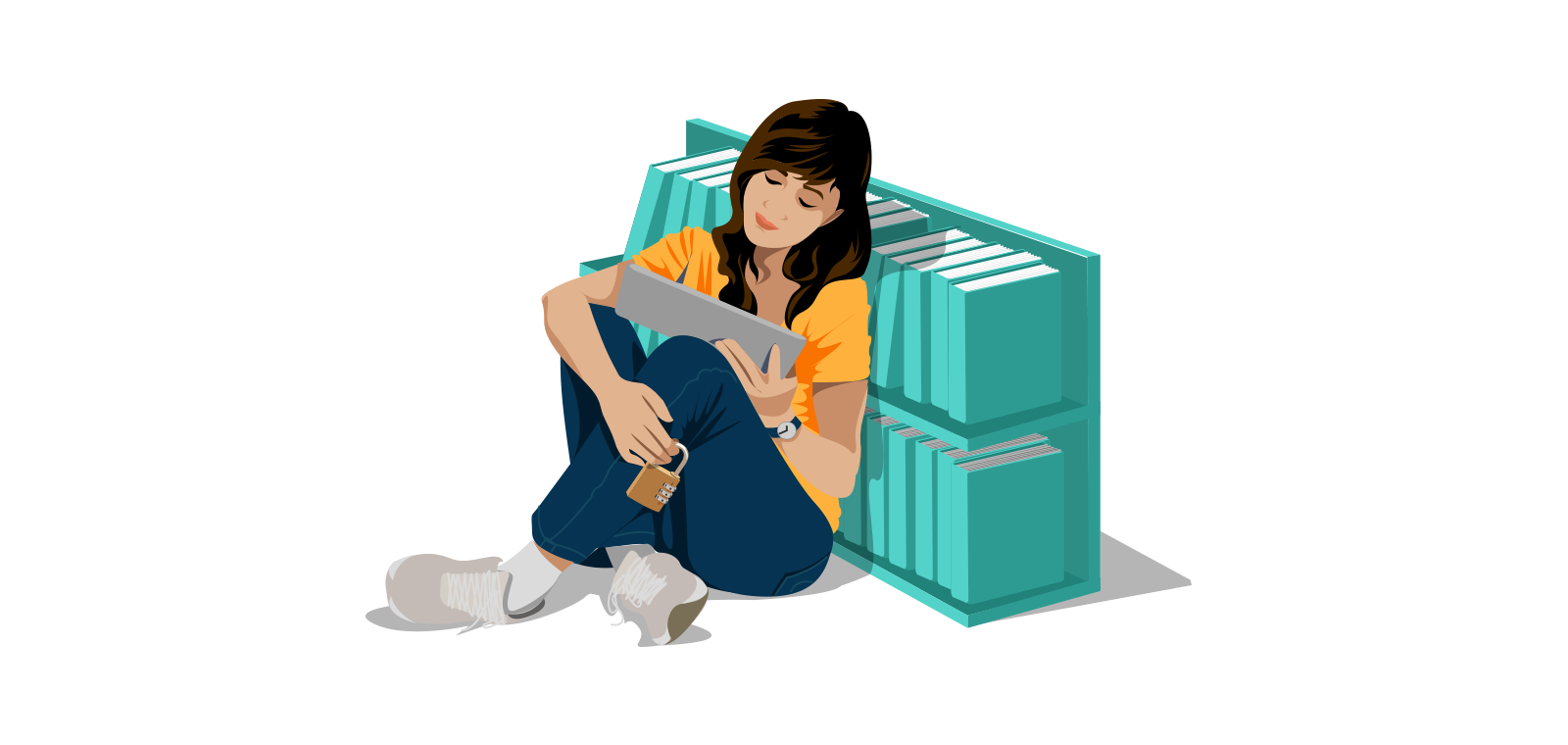 What is Readium LCP ?
Readium LCP (for Licensed Content Protection) is a new passphrase-based rights management solution, with support for different business models, including library lending . This is a simple but reliable solution for distributing protected content, based on rock solid encryption algorithms (AES-256) and classical PKI techniques.
With LCP, rights-owners can efficiently protect their content against over-sharing. However the solution is minimally intrusive for end-users, who don't need to create a third party account and may even share their ebooks with their family or close friends.
Readium LCP has been launched at the EPUB Summit 2017. It's now time for every publishing solution to adopt LCP.
Why should you adopt Readium LCP?
Because it is interoperable by design; any publishing company can become an LCP license provider, any technical organisation can develop an LCP compliant reading app.
Because it is a vendor-neutral solution: the publishing industry is directly leading the operation of this DRM via EDRLab.
Because there is no cost per transaction: the only cost for license providers is a yearly fee associated with the certification of their solution.
Because it is cost effective: EDRLab is a non-profit organisation and has adopted a simple cost recovery model for Readium LCP.
Because it is great for library lending: Readium LCP allows for loan extension and advanced return of a loaned ebook.
Because does not hurt accessibility: the EU Accessibility act requires all distributors of digital publications to offer accessible services to end users and DRM is part of such services. DRMs which block screen readers from accessing content will not be marketable anymore in Europe from 2025.
Because it does not leak personal data: the encryption tool and the license server are deployed by the license provider; no third party will gain access to user data, usage statistics or unencrypted ebook content. This decentralized architecture also brings more robustness to the overall solution.
Because it is easy to integrate in a publishing solution, thanks to the open-source multi-platform DRM server developed by EDRLab.
Because it is easy to integrate in a reading app, thanks to the open-source software developed by EDRLab, a library that is seamlessly added to the Readium SDK.
Demonstrations
The following demos are provider with a French voice and English subtitles.
The first video demonstrates how easy it is to set up an OPDS catalog and borrow LCP-protected ebooks from an online public library (here Lirtuel in Belgium).
The second video demonstrates how patrons, once authenticated, can borrow EPUBs from Thorium Reader without any friction and how loan extension and early return work like a charm. It also demonstrates the ease of synchronization and import of loans in the Aldiko Next mobile application. Aldiko Next is based on the Readium Mobile development kit.
Note: the URL of Lirtuel's OPDS catalog is http://www.lirtuel.be/v1/home.opds2. You must be a patron and thus have an identifier + password to be able to reproduce the steps in this video.
More information
Get more information on Readium LCP by selecting items in the right menu.
For more information on the competitive cost model of the solution and how to be part of the Readium LCP ecosystem, please contact us now.
If you are a developer, you can also …
Dive into the Readium LCP Specs and Codebase
Some feedback from LCP integrators
"In our experience, DRM inevitably leads to support-requests, but to date we haven't received a single one related to LCP-protected books, which I consider a great success. No news is good news and all that." — Johannes Koch, CTO Pubfront (Denmark)
Videos and Webinars on Readium LCP
English
Introduction to Readium LCP, Bill Rosenblatt, EPUB Summit 2017 (view, slides)
Readium LCP, demonstration on stage, EPUB Summit 2017 (view)
Readium LCP pops-up, TEA and De Marque, DPS 2018 (view)
Status of the LCP deployment, worldwide, DPS 2019 (view)
The large deployment of LCP in Canada, De Marque, DPS 2019 (view)
Integrated solutions for LCP, Webqem, Australia, DPS 2019 (view)
A complete bookselling solution using LCP as DRM, ePagine and Bookeen, DPS 2020 (view).
French
Presentation of LCP at the EPUB Summit 2017 : "l'adoption de Readium LCP par les bibliothèques de prêt numérique" (view)
EDRLab webinar on LCP, 17 February 2017 (view)
Presentation of the success of LCP in France for library lending (PNB initiative), presented by the CEO of Dilicom, Véronique Backert (view).
Articles on Readium LCP
English
Readium LCP and Open Source DRM, Bill Rosenblatt, 27 April 2016 (read)
Readium LCP set to launch, Bill Rosenblatt, 11 March 2017 (read)
French
« La Fédération Wallonie-Bruxelles fait figure de pionnière pour l'adoption de Readium LCP en bibliothèque » (read) (Lettres Numériques, 17 mars 2017)
"Prêt numérique : TEA distribuera les ebooks de Hachette avec DRM LCP" (read) (Actualitté, 9 mars 2017)
"Une DRM ouverte basée sur LCP en passe de devenir un standard" (read) (Actualitté, 12/09/2018)
"Bookeen Diva HD : la liseuse qui permet de partager ses livres sans contrainte" (read) (Les Numériques, 18/11/2019)
"Québec : Biblius, un prêt de livres numériques en bibliothèque scolaire" (read) (Actuallité, 06/12/2019)
Japanese
フランスの図書館向け電子書籍配信プラットフォーム会社Dilicom、「Readium LCP」対応の配信プラットフォームを稼働予定 (read)

Readium-2
The major evolution of the Readium SDK codebase, the objectives being better performances and stability, clarity of source code and documentation.

Readium SDK & JS
The reference EPUB 3 open-source reading engine for Web, desktop and mobile apps, on active maintenance by the Readium community.