This is the subject EDRLab wanted to put on the table during the Tokyo workshop.
To open the discussion, Luc Audrain (Hachette Livre), presented the global market for comics/mangas/bande dessinée. The growth of digital manga and webtoon in Japan and Korea is huge: the digital market is now remarkably higher than the print market and focused on mobile reading, something that should ring a bell in the mind of European publishers; after the (good) surprise of a flourishing audiobooks market driven by digital sales, what shall we do to prepare the next step of expansion of digital visual narratives, be it called motion comics, interactive manga or turbomédia?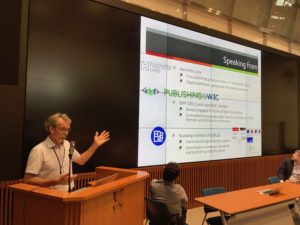 Such interactive/animated works exist today, often brillant artworks, developed as native applications (for iOS, Android, sometime PC…) or Web applications. They are expensive to develop and can't be created without the help of software developers. They are in practice prototypes, which can't be distributed in standard publishing workflows.
EDRLab members believe that the first tool needed for unleashing this market is therefore a standard syndication format adapted to such works. An equivalent of EPUB for text-first ebooks, but optimized for visual narratives. Something that will go beyond what EPUB 3 can express today, unlock the creativity of authors and be an open alternative to the Comixology (Amazon) proprietary format in the US.
The first step for developing a standard is to define a model of all features we want to be able to represent. Samuel Petit, CEO of Sequencity and EDRLab member, therefore presented the result of the work of the EDRLab BDCoMa WG on this topic: a taxonomy (or model) of the different features these digital visual narratives do share. It goes from simple fade transitions to complex parallax sequences; it is not meant to represent "everything" and author could have the desire to express, but rather the intersection of all needs: that what a standard must do.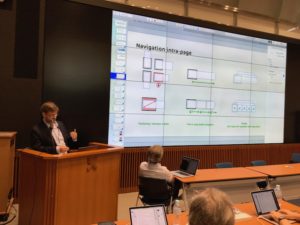 The second step is to create around this model a description language, we could say the "program" of the publication, which is easy to author, distribute and parse for rendering the publication, plus is suitable for long-term preservation. Laurent Le Meur, CTO of EDRLab, presented an overview of the format EDRLab members have prototyped, a JSON format ready for use in Web and native applications. This format is based on the Web Publication Manifest under development by W3C members, which means that Digital visual narratives may be distributed either as Web Publications, streamed online, or a packaged publications using the upcoming EPUB 4 format.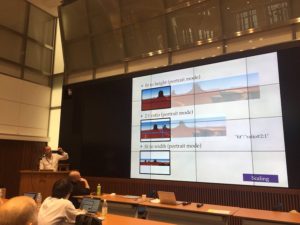 What was the outcome of the meeting?
The participants to the workshop decided to create a W3C Community Group around the project started by EDRLab, with a focus on completing and documenting the model of digital visual narratives (vocabulary and effects).
Everybody (W3C member or not) can participate to a Community Group (CG). The Japanese participants from the publishing industry agreed to join the CG as soon as it is created, as did Rachel Nabors (cartoon creator AND CSS expert) andPablo Defendini (digitalcomics.co). EDRLab will be happy to animate the work. In parallel, EDRLab will continue its work on the format specification and will start developing prototypes of Readium reading systems early next year.
We hope that this work will be continued by a W3C technical Task Force in 2019, similar to the Audiobook Task Force which is working at a standard format for digital audiobooks. Such task force will benefit from the work done at EDRLab on the prototype format for digital visual narratives.