L'inventeur du Web et directeur du W3C Tim Berners-Lee partage aujourd'hui sa vision de l'édition sur internet lors de son discours à l'IDPF Digicon pendant le salon Book Expo America 2016 à Chicago.
---
https://www.w3.org/ — 10 Mai, Chicago, Illinois, États-Unis — Le World Wide Web Consortium (W3C) et l'International Digital Publishing Forum (IDPF) ont présenté leur intérêt mutuel à combiner leurs organisations respectives afin d'accélérer le développement des technologies d'édition sur la plate-forme du Web ouvert.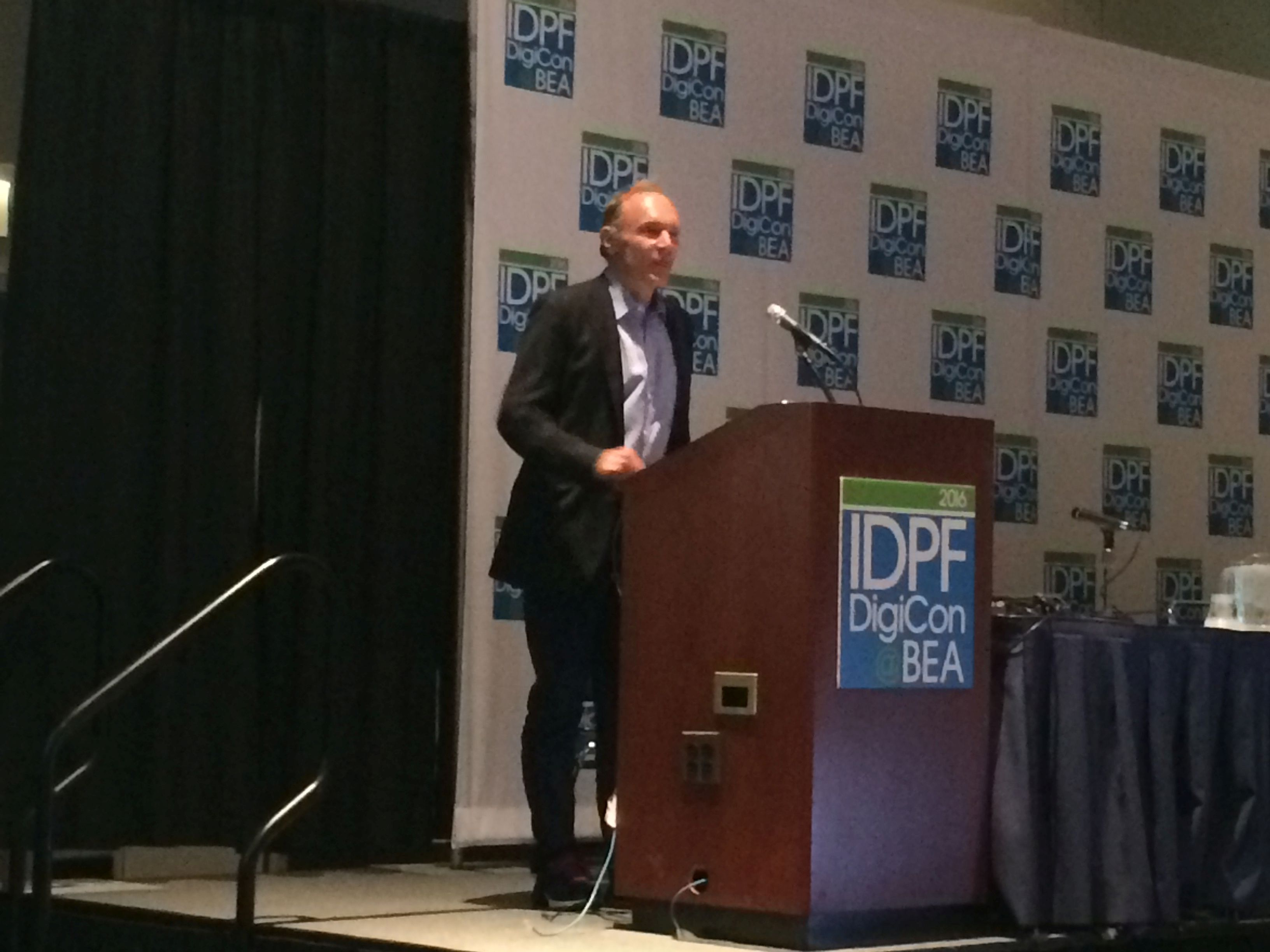 Tim Berners-Lee, l'inventeur du Web et directeur du W3C, et Bill McCoy, directeur exécutif de l'IDPF ont dévoilé leur projet lors du discours d'ouverture de Tim Berners-Lee à l'IDPF Digicon lors du salon Book Expo America à Chicago, Illinois, États-Unis.
« Nous partageons une vision enthousiasmante entre le W3C et l'IDPF afin d'harmoniser pleinement l'industrie de l'édition et le cœur des technologies Web. Cela va créer un environnement médias enrichis pour l'édition numérique, et ouvrir ainsi de nouvelles possibilités pour les lecteurs, les auteurs et les éditeurs » a déclaré Tim Berners-Lee.
« Pensez aux manuels pédagogiques : le contenu des livres tel que nous le connaissons aujourd'hui est en train de devenir très interactif et accessible. Des images et des vidéos peuvent être liées à des évènements historiques réels, et à des données originales de recherche. Il est désormais possible de créer une plus grande authenticité et un cadre d'apprentissage plus attrayant pour les enseignants et les étudiants » a commenté Tim Berners-Lee
« Que ce soit pour du contenu EPUB, du marketing social ou de l'engagement du lecteur, les technologies web sont fondatrices pour permettre la création de contenus numériques, leur distribution et leur affichage sur tout appareil disposant d'un navigateur Web ou d'applications dédiées à la lecture, et sur les eReaders » a dit Bill Mc Coy.
La mise en commun des forces respectives de l'IDPF et du W3C finalisera l'intégration de l'Edition dans le web.
Après l'annonce, les représentants du W3C et de l'IDPF ont expliqué que depuis 3 ans, les membres de leurs communautés respectives collaborent pour déterminer comment l'expertise et les technologies de l'édition peuvent participer à l'amélioration du web, et comment les technologies web peuvent créer de plus grandes opportunités pour l'industrie de l'édition.
« Je suis enthousiaste à la perspective d'unir nos forces avec le W3C. La réussite de l'IDPF à développer le standard EPUB pour la publication numérique sera complétée par l'expertise du W3C dans les standards du web qui permettent l'avènement de médias enrichis accessibles », a déclaré George Kerscher, président de l'IDPF.
Docteur Jeff Jaffe, le PDG du W3C souscrit également, « Avec la pleine participation de la communauté de l'édition numérique, ainsi que les principaux développeurs de la plate-forme Web, nous accélérons le développement de standards technologiques. Les technologies web initiales ne répondaient pas totalement aux besoins rigoureux des auteurs et éditeurs dont le contenu est conçu pour les livres journaux et magazines avec une typographie améliorée ».
Prochaines étapes
Les prochaines étapes de l'opération entre les deux organisations sont le recueil des commentaires des membres respectifs du W3C et de l'IDPF et la rédaction d'un protocole d'accord. Après l'approbation des membres des deux organisations et la validation juridique de l'accord, l'objectif est de combiner les deux organisations en janvier 2017. L'évolution future du standard EPUB continuera au sein du W3C, ainsi que des travaux plus généraux pour améliorer les fonctionnalités de publication sur l'ensemble de la plate-forme du Web ouvert.
A propos du W3C
Le World Wide Web Consortium (W3C) est une communauté internationale où les membres, une équipe à plein temps, et le public travaillent ensemble pour développer les standards du web. Plus de 400 organisations sont Membres du consortium.
Le W3C est piloté conjointement par le MIT Computer Science and Artificial Intelligence Laboratory (MIT CSAIL) aux États-Unis, l'European Research Consortium for Informatics and Mathematics (ERCIM) basé en France, L'Université de Keio au Japon et l'Université de Beihang en Chine. Le W3C a des bureaux en Autriche, en Grèce, en Hongrie, en Inde, en Italie, en Corée, au Maroc, en Russie, en Afrique du sud, en Espagne, en Suède, au Royaume Uni et en Irlande. Pour plus d'informations : https://www.w3.org/
A propos de l'IDPF
L'IDPF (International Digital Publishing Forum) est l'organisation mondiale dédiée au développement et à la promotion de standards ouverts pour l'édition numérique. Les membres de l'IDPF sont des éditeurs des entreprises de technologie, d'autres associations de l'industrie, des organisations gouvernementales et pour l'éducation. L'IDPF est le développeur du standard EPUB pour l'échange et la distribution de publication numériques.http://idpf.org
Fin du communiqué de presse.
Contacts
Karen Myers, W3C <w3t-pr@w3.org>
Portable: 1.978.502.6218
Sarah Hilderley, Directrice de la communication de l'IDPF <presscontact@idpf.org>