Laurent Le Meur, CTO of EDRLab, joined Ivan Herman (W3C) and Dahei Shiohama (Media Do International) at the Assises du Livre Numérique in Paris on December 3th, to explain to a large audience how international cooperation is shaping new forms of ebooks. The panel was moderated by Virginie Clayssen (Editis), president of EDRLab.
Ivan introduced the W3C, the Publishing@W3C initiative, the current achievement of the W3C Publishing Community Group on EPUB 3.2, and the current work on Web Publications.
Shiohama San explained the wide use of EPUB 3 in Japan (no EPUB 2 there!), the huge Manga market in Japan and the explosive Webtoons market in Korea.
Laurent described the current international cooperation taking shape between EDRLab, the W3C and the Japanese Advanced Publishing Laboratory, what Web Publications look like and how EPUB files can be exposed to the Web as Web Publications.
He also explained the current push, by EDRLab, Kobo and Google Play, for an interchange format for audiobooks (audio publications / nickname audiopub) as a profile of Web Publications.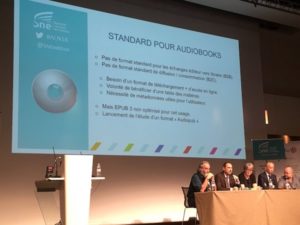 Laurent also put a strong focus on digital visual narratives (nickname Divina), the essence of digital Bande dessinée / Manga / Comics / Webtoons / Turbomedia as a unified interchange format, also a profile of Web Publications. The goals of the project are to allow authors to create digital graphic stories without technical help (therefore with lower costs of production); to be assured that they keep an artistic control on their work whichever device it is played on; and to assure the long-term preservation of such natively digital works.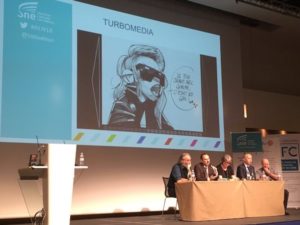 It was made clear during the talk that the creation of such a new product in the publishing industry requires a perfect alignment of the decisions and actions of the different participants in a publishing workflow: authors, providers of authoring tools, publishers, providers of distribution platforms and providers of reading solutions. If it is not the case, these digital works will stay beautiful prototypes. It is therefore not only a technical project, but rather a global industry project.
Daihei Shiohama stated that this project is attractive for the Japanese publishing industry, which perceives it as a new and innovative product, potentially a spin-off of Manga production (like Anime production is often). This project is currently handled by EDRLab; we are therefore now opening it on a global scale with the launch of a W3C Community Group which will study and document, for all kinds of visual narratives expressed  digitally, a common conceptual model and associated sets of controlled values. We hope that the indie US Comics industry will also join this open initiative.
For those interested, the slides can be downloaded here.