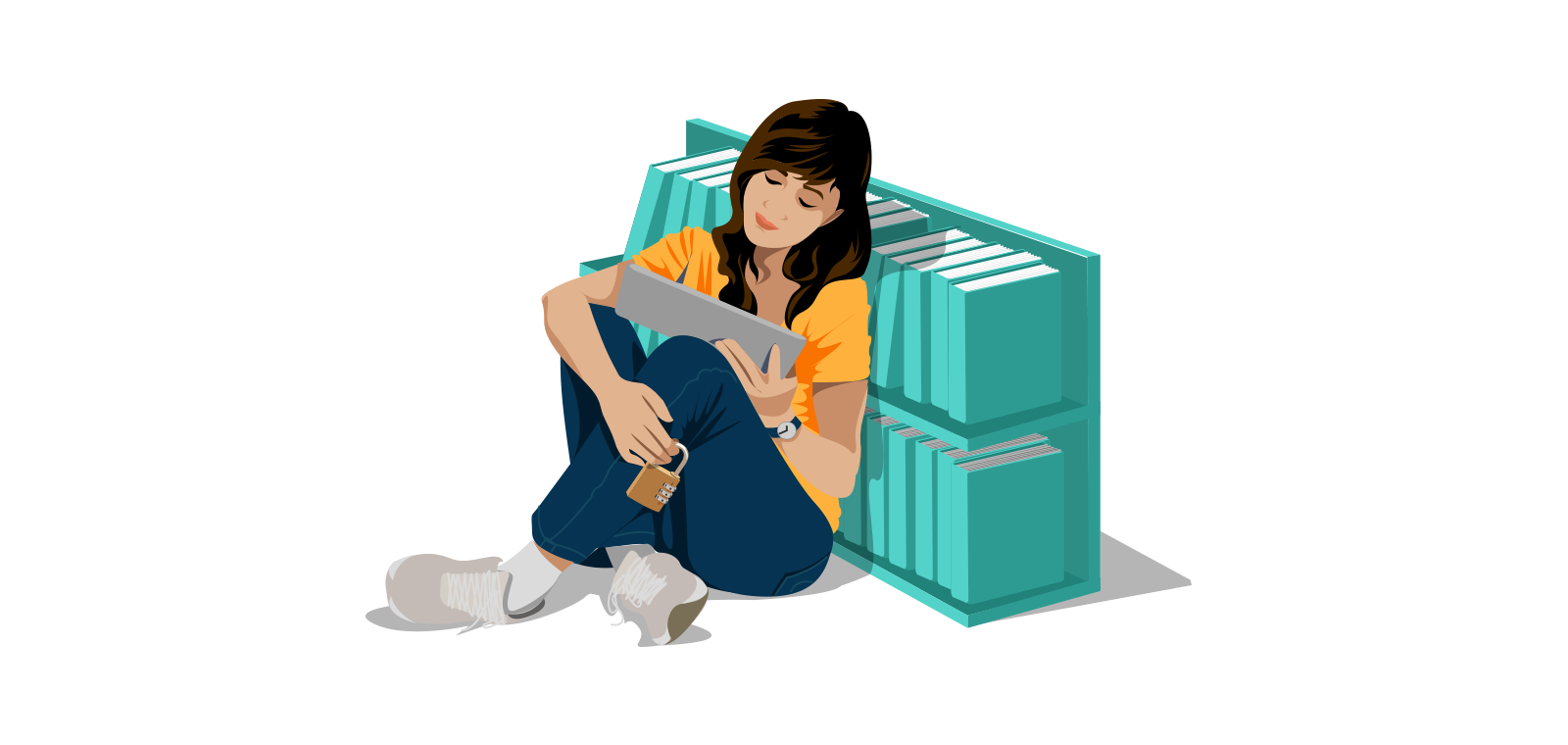 Certified solutions
In this first section, you'll find an alphabetically ordered list of LCP compliant solutions worldwide, split in several sub-sections; clic on a section name to get the list of corresponding items:
eKitabu Desktop Reader / eKitabu (Rwanda)
Glassbox / Firsty Group (UK)
Thorium Reader / EDRLab (France)
Vivlio Desktop Reader / Vivlio (France)
Aldiko Next / De Marque (Canada)
Allbok / Bokbasen (Norway)
Baobab Reader / Dilicom (France)
Bibblix / Sambruk (Sweden)
Bookeen Android (France)
Brio Reader / Eden Livre (France)
CVS Ma Médi@thèque (France)
DITA Reader / DITA (USA)
EBOK.NO (Norway)
Glassbox / Firsty Group (UK)
Inspirata eBooks / Inspirata Publishing (Hong Kong)
LEA Reader / Adilibre (France)
Lis-a Reader / Art Book Magazine (France)
Pretnumerique.ca / Bibliopresto (Canada)
Rally Reader (USA)
Shanghai Library (Chine)
i.e. specific handheld devices, either e-readers or devices specific to visually impaired people.
Bookeen Diva (France)
Bookeen Notéa notepad (France)
Tolino Page / Rakuten Kobo (Canada)
More Details
This section takes a geographical approach and shows interactions between these organizations. A third section will focus on LCP technology providers.
At EDRLab
Thorium Reader is a free desktop reading app, used on Windows 10, Mac and Linux PC.  With this free application, EDRLab firstly aims at offering a great EPUB 3 reading experience with an emphasis on accessibility for print disabled people. The support of the LCP DRM and OPDS catalogs makes it a great tool for library patrons. This application also supports PDF, Audiobooks and Divina comics and it is currently localized in a large set of languages.
R2 Reader is the test application associated with the Readium Mobile toolkit. It essentially demonstrates the power of this new development platform and is used as a template for developers willing to adopt this toolkit. Access to this LCP compliant iOS and Android app is now reserved to listed testers. Contact EDRLab if you want to become a tester.
In France
France has been the first country to move ahead with LCP, both for e-lending and retail, which explains why a large set of LCP compliant servers and applications are on the market today:
The national e-lending service called PNB (Prêt Numérique en Bibliothèque) offers a direct access to a large set of French public libraries which distribute both LCP and Adobe protected ebooks, provided by the main French ebook distributors, which are Numilog, Eden Livres, Vivlio and Immatériel.
Baobab Reader is the official LCP compliant companion application of the PNB service. Published by Dilicom, this iOS and Android reading application is now based on Readium Mobile.
Bookeen Diva is the new eink reader developed by Bookeen (member of EDRLab) and Bookeen Notéa is an innovative eink Android notepad which opens LCP protected ebooks via the Bookeen Android application.
Aldiko Next  is available on iOS and Android (beta). Based on Readium Mobile, it is developed by De Marque and support EPUB, audiobooks and PDF documents from any source (local folders and OPDS catalogs).
Online retailers like bookeenstore.com, ePagine, Gallimard already provide a large set of LCP protected ebooks to users willing to stop being prisoners of Amazon, Apple, Google or Adobe.
Brio Reader is a reading application for Android and iOS published by Eden Livres (member of EDRLab), based on Readium Mobile. It gives a direct access to ebooks and audiobooks acquired from the online websites from the Madrigall publishing group, plus gives access to a set of online OPDS catalogs from French public libraries.
Vivlio Reader is a desktop application for Windows 10, MacOS and Linux, developed by Vivlio (member of EDRLab).
LEA Reader is a reading application for Android and iOS published by Adilibre,  the technical subsidiary of Albin Michel, a large French publisher. The application is using the expertise of Nordsoft (member of EDRLab) and is based on the original Readium "1" SDK. See also our post on the release of LEA Reader Android.
Lisa is an  iOS and Android developed by Art Book Magazine (ABM is member of EDRLab). It was the first Readium LCP compliant application on the Apple AppStore. It reads EPUB 2, EPUB 3 fixed layout and reflowable publications, plus PDF files. It is based on the original Readium "1" SDK (Readium "1"). See also our post on the release of Lis-a.
Also, the PNB offer is also available via La Médi@thèque numérique , a multimedia service proposed by CVS to French public libraries. Ma Médi@thèque iOS and Ma Médi@thèque Android are the LCP compliant companion apps for this service.
In Germany
Die Onleihe is the main e-lending solution in Germany. Since 2019, German titles are LCP protected via a solution provided by Vivlio.  Library patrons access these LCP protected publications on their Tolino e-readers. More than 25.000 LCP licences are generated each day.
Note: Tolino is a brand name of e-readers and tablets marketed by leading booksellers in Germany, Austria, and Switzerland. The technical solution is operated by Rakuten Kobo.
In other parts of Western Europe
In the UK, Firsty Group has adopted LCP (using the Readium LCP Server provided by EDRLab) for its direct to consumer  Glassboxx  platform and for the Ulverscroft platform developed for providing ebooks and audiobooks to public libraries in the UK, Australia, Ireland, New Zealand and US. Its LCP compliant reading apps are based on the Readium "1" SDK.
In Belgium, the e-lending platform Lirtuel offers LCP protected ebooks and audiobooks to its patron. Lirtuel is recommending Aldiko Next as a mobile app for accessing its content via an OPDS catalog.
In Spain, Libranda and Xercode are distributing LCP compliant solutions and the national eBiblio e-lending service has adopted LCP as its DRM of choice.
In Italy, MLOL is deploying LCP on is e-lending platform and has already developed LCP compliant iOS, Android and Desktop applications, based on the Readium Mobile and Desktop toolkits and the Thorium Reader application (see their blog post). LCP protected ebooks will be provided by Edigita.
In Northern and Eastern Europe
Bokbasen (an early member of EDRLab) is the leading ebook distributor in Norway. Bokbasen is distributing since 2019 LCP protected ebooks and audiobooks to its customers. The company has also released the LCP compliant Allbok mobile application, based on the Readium Mobile toolkit.
ebok.no is Norway's top ebookstore; It has released in July 2020 the LCP compliant EBOK.NO mobile application, based on the Readium Mobile toolkit.
Stockholm Public Library and Sambruk have made their Bibblix mobile application LCP compliant. Bibblix is "an app for children between the ages of 6-12, which purpose is to promote and inspire reading in a joyful manner, without any demands that they might else experience in a school environment for instance". Check our post here.
The LCP protected publications are provided by Axiell Media, a large Swedish solution provider for publishers, distributors, public libraries and schools. The Axiell Media platform has now adopted the LCP DRM and the Readium Mobile toolkit for its own iOS and Android reading apps.
Other deployments will soon be finalized in Bulgaria (Ozone.bg), Russia and Mongolia.
In Canada and the USA
pretnumerique.ca, operated by Bibliopresto (member of EDRLab), is a large e-lending platform in Canada. The ebooks and audiobooks provided by this platform are now protected by LCP and accessed via LCP compliant iOS and Android apps based on Readium Mobile. LCP protected content is distributed by companies like De Marque and Messageries-ADP.
NetGalley provides digital review copies to its subscribers. The ebooks offered for review by the main US publishers are now protected by LCP.
EditionGuard is a US solution provider for publishers. The company offers protection and fulfillment all digital documents, ebooks, pdfs and eLearning content with enterprise grade DRM solutions.
The BiblioVault repository serves more than 90 scholarly presses in the USA and contains digital files for more than 40,000 books. LCP protected ebooks are distributed since May 2021 to all students, with Thorium Reader as the recommended reading app on desktop.
Lyrasis has partnered with the Columbia University Libraries to integrate LCP into the SimplyE platform, "opening more license model options for self-hosted content by libraries and university presses, and integration with content aggregators looking to move beyond Adobe ACS services" (see blog post).
The Canadian Electronic Library (CEL, member of EDRLab) is an aggregator of ebooks for libraries specializing in Canadian contents. EPUB reflow and fixed-layout content and audiobooks are available on the desLibris platform and now protected by LCP. DITA Reader is used for accessing desLibris content.
Gantec Publishing Solutions is a US solution provider for publishers, schools and higher education. Its ebooks2go platform has adopted LCP and has developed LCP compliant iOS and Android reading apps based on Readium Mobile.
Rally Reader provides an innovative AI-powered service in the USA, which aims at improving children's reading skills: its iOS app hears them read ebooks, identifies errors, and tracks accuracy on a word-by-word basis. The EPUB ebooks are protected by LCP.
eKitabu is providing accessible digital content for inclusive and quality education in Rwanda and other African countries. eKitabu has developed a client/server solution which uses LCP for ebooks protection. THis includes a Windows application based on Thorium Reader.
Nabu.org is providing free ebooks to children in Rwanda, Haiti and the Republic of Congo. Most of these ebooks are protected by LCP and the organization has developed LCP compliant iOS and Android mobile applications based on Readium Mobile for  easy access to this content.
Notion Wave Inc. (member of EDRLab), based in Ontario, Canada, is a software company with products addressing knowledge management and digital publishing. Its flagship product, KNiTO (knito.com) is a complete ePUB3 authoring, publishing, sales, and reader solution. A solution which will offer LCP protected ebooks from 2021.
In Asia
The Shanghai Library (member of EDRLab) is the second largest public library in China. Its new e-lending platform is now using LCP and it has developed new apps based on Readium Mobile.
Endao is operated by Inspirata Publishing, from Hong Kong. This Christian e-book reading platform aims to promote the digital distribution of Chinese Christian resources. Inspirata Publishing has adopted LCP for Endao and the Readium Mobile toolkit for its iOS reading app. Its Android app, based on FolioReader, has also been adapted to be LCP compliant.
LCP Technology Providers
These technologies providers have developed software or services compliant with Readium LCP. You can contact them for speeding your delivery of LCP compliant services.
De Marque (Canada)
De Marque (member of EDRLab) provides technical solutions to e-distributors and public libraries in different countries. Its Cantook Hub distribution platform is Readium LCP certified, which opens the way to the distribution of Readium LCP protected EPUB files in every distribution platform operated by Cantook servers, worldwide.
DRM Inside (Korea)
DRM Inside is a Korean company which develop protection SDKs for EPUB publications. Their OPENs application is a test application demonstrating the capabilities of their Readium LCP client SDK. It was first demonstrated during the 2017 EPUB Summit, in Brussels. Their CTO is co-editor (along with the EDRLab CTO) of the upcoming ISO standard based on Readium LCP. DRM Inside can help booksellers developing an LCP compliant platform.
Firsty Group(UK)
The UK based Firsty Group (member of EDRLab) is a digital development agency that works exclusively within publishing. It is specialized in eCommerce, direct to consumer websites and apps for publishers, retailers, aggregators, distributors, and authors – developing solutions designed to improve the commercial success of the business. Their team has experience in integrating LCP in distributions platforms and would be happy to help third parties.
Vivlio (France)
Vivlio is a French company which provides technical solutions to e-distributors; member of EDRLab since 2015, and since 2018 member of the board of EDRLab.
Vivlio has developed an LCP license server in Saas mode, under the brand CARE, used in France and Germany (by Divibib Onleihe; related post fr). The solution developed by Vivlio is 100% LCP compliant; it provides an additional automatic key retrieval feature, available if a publication is served from a Vivlio-powered retail server.
webqem (Australia)
webqem is an Australian based company, developer of digital solutions. The company has adopted LCP on its ebook CMS / distribution platform and offers a hosted solution for ebook retailers. This solution has been described by Gavin Perry, Director of Digital Solutions, during the Digital Publishing Summit 2019 (video, slides).
The webqem solution is based on the Readium LCP Server provided by EDRLab and the LCP compliant DITA Reader (based on the Readium Mobile toolkit).

Readium-2
The major evolution of the Readium SDK codebase, the objectives being better performances and stability, clarity of source code and documentation.

Readium SDK & JS
The reference EPUB 3 open-source reading engine for Web, desktop and mobile apps, on active maintenance by the Readium community.