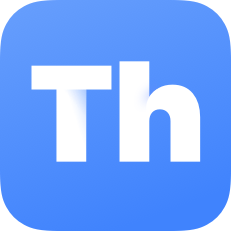 Thorium Reader is the EPUB reader of choice for Windows 10 and 11, MacOS and Linux.
This EDRLab application is in constant development and aims at becoming a reference for accessing EPUB 3 publications in reflow or fixed layout format, audiobooks and visual narratives, PDF documents and DAISY 2.02 and 3 accessible ebooks; LCP protected or not.
It is localized in a large set of languages, each version offering new locales.
Huge efforts are also made to get Thorium Reader highly accessible for visually impaired and dyslexic people.
This application is free, with no ads and no leaks of private data.
This is the perfect tools for heavy readers, library patrons and students.
You'll find here a documentation in English and French.
Quotes
"I love Thorium and have introduced it to my students for reading any digital content. It is doubly good when something that makes reading more accessible for visually impaired people is also something that makes things more flexible for all. It makes it so much easier to get buy-in for using it." – Suzanne Norman (Simon Frazer University, Canada)
"I am very happy to have found this app. Its simple, easy to use, and most importantly, its very friendly for people who are blind and visually impaired."  (Noberto, USA)
"I can't get enough of this ebook reader its clean and simple makes things easier for me to read! thank you I totally recommend this!" (Gigi, USA)
Presentations of Thorium Reader
Terms of Use, Privacy Policy
Please read carefully the following terms and conditions and the documents incorporated by reference therein before you begin using the Thorium Reader application.
Download Thorium Reader
The latest version of Thorium Reader is 2.3.0, released in August 2023.
This version features:
New and updated translations: Bulgarian, Greek, Croatian, Korean, Portuguese (Portugal).
Reader / image zoom: major feature update from initial proof of concept, better user experience (finger touch, trackpad gestures, mouse wheel, keyboard); support for raster/bitmap images as well as SVG markup.
Reader / MathML: native rendering; prioritization of authored alt-text if present, with the option to dig further / deeper into the MathML structure (useful with screen reader specialised plugins).
Reader / navigation history: hyperlink activation now correctly sets the landmark for previous/next navigation.
Reader / text display: fixed left/right/justify text alignement ("start" can be left or right depending on document language), "automatic" is now "default" with changed SVG icon to avoid confusion.
Reader / UX: finger swipe gesture can now be used to turn pages (requires touch screen).
Reader text selection: double-click now works (bookmarks label for now, later in upcoming annotations feature).
Reader / TTS: many fixes.
Reader / HTML5 audio: fixed visible controls visibility.
And many more, detailed in the release page.
Here are links to:
For testers willing to check our latest developments, nightly builds of the Windows, MacOS and Linux versions can also be downloaded from the Readium Github platform.
Need support?
As every open-source project, support is mainly done via Github issues.
Here is the link to the EDRLab Github Thorium Reader issues repository.
If your unable to open a Github issue for any reason, you can also send an email to thorium-support at edrlab.org (@ replaced to avoid spam), we'll make our possible to answer.
Why developing Thorium Reader?
For a long time, there was no modern EPUB 3 compliant reading application usable on Windows, OSX and Linux, properly accessible for print disabled people, with a good support for the LCP DRM and capable of browsing OPDS catalogs.
EDRLab decided to build such an application and release it for free, in order to provide users a great way to enjoy on a large screen EPUB publications, comics / manga / bandes dessinées, audiobooks, LCP protected PDF documents.
Print disabled people now benefit from an EPUB 3 reading app which supports screen readers like Jaws and NVDA on Windows, Voice Over on Mac.
Technology
Thorium Reader is based on the set of open-source chrome-less modules, a toolkit named Readium Desktop. Thorium Reader and Readium Desktop both rely on Electron.js, node.js and typescript, which are efficient cross-platform technologies. Thorium is also using React components based on HTML 5/CSS 3.

Readium LCP
The vendor-neutral and interoperableDigital Rights Management technology, embeddable in any reading application based on the Readium SDK.