In Sweden, the Stockholm Public Library (now member of EDRLab) has developed a mobile application named Bibblix, which is targeting 6-12 years old patrons (dedicated web site). This application offers reading recommandations to children via its colorful user interface presenting a large set of book categories; these books can all be borrowed at the library, and a large part of this catalog is also available as EPUB publications, readable directly in Bibblix, online or after download. The app is available in the Stockholm, Malmö, Katrineholm and Norrtälje city libraries.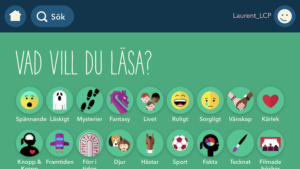 Bibblix iOS is now LCP compliant, meaning that all ebooks kids download are not readable anymore after a few weeks. The DRM protection is totally invisible for the young patrons. It is applied without kids needing to create a third party DRM provider account and without any leak of personal data.
Technically speaking, this application is based on Capacitor (ionic) and embeds the Readium Mobile iOS toolkit, including the Readium LCP client module. The LCP protection is applied by Axiell Media, a Swedish company which distributes ebooks and streaming media in the Nordic countries. Axiell Media is offering an LCP service to Nordic libraries since the start of 2020.
The sibling Android app will be released in the coming months.